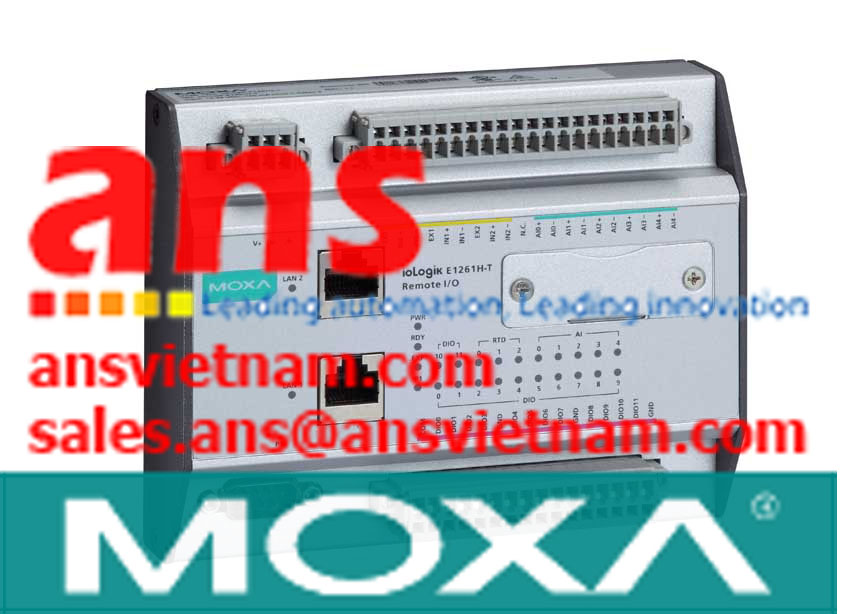 Ethernet I/O ioLogik E1261H-T Moxa vietnam
Hãng sản xuất: Moxa
Liên hệ tư vấn

Sales ANS

sales.ans@ansvietnam.com

+84.8 3517 0401
Ethernet I/O ioLogik E1261H-T Moxa vietnam
Features and Benefits
User-definable Modbus/TCP Slave addressing
2-port Ethernet switch for daisy-chain topologies
Active communications with MX-AOPC UA Server
Easy mass deployment and configuration with ioSearch utility
Friendly configuration via web browser
Simplify I/O management with MXIO library on either Windows or Linux platform
IEC 60945 approval for harsh offshore environments
Wide operating temperature range: -40 to 75°C (-40 to 167°F)
Rugged Ethernet Remote I/O:
The ioLogik E1200H Series for Harsh Environments
Industry-Proven Rugged Design
Installation of remote Ethernet I/O in offshore environments is a real challenge. It is critical to find devices properly designed for protected, safe use in these environments. Moxa's ioLogik E1200H series with IEC 60945 certifications fulfills the need for devices suitable to such demanding industrial applications. Compactly packaged in a metal housing, this rugged hardware keeps operating in temperatures ranging from -40 to 75°C, meeting the stringent demands of IEC 60945 for harsh offshore applications.
Daisy-Chain Topology Reduces Deployment Costs
Thanks to its two embedded Ethernet switch ports, the ioLogik E1200H remote Ethernet I/O allows you to create daisy-chain topologies for easy cabling. In distributed Ethernet data acquisition applications, panels, units, and cabinets are often located at remote sites where space is limited. The daisy-chain capability of the ioLogik E1200H series allows ioLogik E1200H units to connect in series either to each other or to other nearby Ethernet devices, drastically saving on both space and wiring costs.
Application: Offshore Remote Monitoring
Have you ever wondered where to find a rugged remote Ethernet I/O device to offshore facilities? You need something with the ability to withstand extreme weather conditions, wide temperature changes and that can be used in hazardous environments. With Moxa's ioLogik E1200H, you get a robust design that will meet your most stringent demands, ensuring your remote data acquisition remains reliable, consistent, and safe.
Towards a Smarter World with Moxa's I/O Solutions
Smart I/O Success Stories
The innovation of Moxa's data acquisition engineers is reflected in Moxa's latest I/O products, which are helping companies around the world simplify the management of distributed control systems, and as a result reduce costs and create business growth. In addition, Moxa also provides innovative data acquisition software that helps businesses simplify the process of integrating I/O devices with an existing network. This smart automation software not only helps users gather data faster and more efficiently, but also helps businesses identify, assess, and monitor potential risks.
Download this 16-page Smart I/O Brochure to learn more about:
- The Smarter World Trend

- Moxa's Innovative Designs
- Moxa's Easy-to-Use Automation Software
- Success Stories Based on Moxa's Smart I/O Solutions
- Moxa's Smart IO Product Selection Guide
Related White Papers
A New Chapter in the Legacy of RS-485 Data Acquisition Devices
This white paper provides insight into the future of RS-485 data acquisition devices, and how Moxa is adding a new chapter to the legacy of RS-485 data acquisition devices.
SNMP I/O Devices Make Monitoring Environmental Conditions Easy
This paper will first explain what SNMP is, why you should use SNMP for environmental monitoring, and then discuss how an SNMP environmental monitoring device will help ease the management and implementation process.
ioLogik E1261H Specifications

•

Inputs and Outputs
Configurable DIOs (by software)
12 channels
Analog Inputs
5 channels
RTDs
3 channels
Isolation
3k VDC or 2k Vrms

•

Digital Input
Sensor Type
Wet Contact (NPN or PNP), Dry Contact
I/O Mode
DI or Event Counter (channels 0 to 3)
Dry Contact
• On: short to GND
• Off: open
Wet Contact (DI to GND)
• On: 0 to 3 VDC
• Off: 10 to 30 VDC
Common Type
12 points per COM
Counter Frequency
250 Hz
Digital Filtering Time Interval
Software Configurable

•

Digital Output
Type
Sink
I/O Mode
DO or Pulse Output (channels 0 to 3)
Pulse Output Frequency
500 Hz
Over-Voltage Protection
45 VDC
Over-Current Protection
2.6 A (4 channels @ 650 mA)
Over-Temperature Shutdown
175°C (typical), 150°C (min.)
Current Rating
200 mA per channel

•

Analog Input
Type
Differential input
Resolution
16 bits
I/O Mode
Voltage / Current (software selectable)
Input Range
0 to 10 V, 0 to 20 mA, 4 to 20 mA, 4 to 20 mA (burnout detection)
Accuracy
• ±0.5% FSR @ 25°C
• ±1.0% FSR @ -40 and 75°
Sampling Rate (all channels)
• All channels: 12 samples/sec
• Per channel: 1.5 samples/sec
Input Impedance
10 mega-ohms (min.)
Built-in Resistor for Current Input
120 ohms

•

RTDs
Sensor Type
PT100 ( -200 to 850°C)
Input Connection
2- or 3-wire
Sampling Rate
• All channels: 12 samples/sec
• Per channel: 1.5 samples/sec
Resolution
0.5°C
Accuracy
• ±0.5% FSR @ 25°C
• ±1.0% FSR @ -40 and 75°C
Input Impedance
625 kilo-ohms

•

Power Requirements
Input Voltage
12 to 48 VDC
Input Current
235 mA @ 24 VDC

•

Physical Characteristics
Dimensions
140 x 113 x 36.3 mm (5.51 x 4.45 x 1.43 in)
Weight
825 g (1.82 lb)

•

MTBF (mean time between failures)
Time
296,094 hrs
Standard
Telcordia SR332
Common Specifications

•

LAN
Ethernet
2 switched 10/100 Mbps RJ45 ports
Protection
1.5 kV magnetic isolation
Protocols
Modbus/TCP (slave), TCP/IP, UDP, DHCP, BOOTP, HTTP

•

Serial
Interface
1 RS-232/422/485 (software selectable) DB9 male port
Parity
None
Data Bits
8
Stop Bits
1
Flow Control
None
Baudrate
300 to 115200 bps
Protocols
Modbus RTU (slave)

•

Physical Characteristics
Wiring
I/O cable max. 14 AWG
Mounting
DIN rail (standard), wall (with optional kit)

•

Environmental Limits
Operating Temperature
-40 to 75°C (-40 to 167°F)
Storage Temperature
-40 to 85°C (-40 to 185°F)
Ambient Relative Humidity
5 to 95% (non-condensing)
Shock
IEC 60068-2-27
Vibration
IEC 60068-2-6
Altitude
Up to 2000 m
Note: Please contact Moxa if you require products guaranteed to function
properly at higher altitudes.

•

Standards and Certifications
Safety
UL 508
EMC
EN 55032/24, EN 61000-6-2/6-4
EMI
CISPR 32, FCC Part 15B Class A
EMS
IEC 61000-4-2 ESD: Contact: 4 kV; Air: 8 kV
IEC 61000-4-3 RS: 80 MHz to 1 GHz: 3 V/m
IEC 61000-4-4 EFT: Power: 1 kV; Signal: 0.5 kV
IEC 61000-4-5 Surge: Power: 2 kV
IEC 61000-4-6 CS: 3 V
IEC 61000-4-8
Maritime
IEC 60945
Green Product
RoHS, CRoHS, WEEE
Note: Please check Moxa's website for the most up-to-date certification status.

•

Warranty
Warranty Period
5 years
Details
www.anhnghison.com