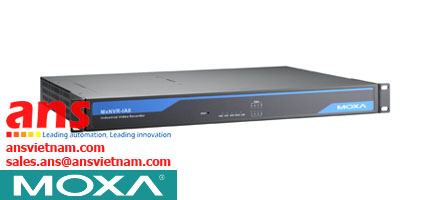 Industrial Network Video Recorder MxNVR-IA8 Series Moxa vietnam
Hãng sản xuất: Moxa
Liên hệ tư vấn

Ms. Hân

han@ansgroup.asia

0937.720.487

live:.cid.d8447f86f4b0447b
Industrial Network Video Recorder MxNVR-IA8 Series Moxa vietnam
Phase-out and Last Buy Notice
The MxNVR-IA8 series will be discontinued starting from April 1, 2017. The deadline for placing a final purchase order is September 1, 2017. Due to the limited availability of these products, orders will be processed till we run out of stock. For alternative solution, please contact your Moxa sales representative if you have further questions.
Features and Benefits
Supports H.264, MPEG4, and MJPEG video recording (limited to VPort models)
Can record up to 8 VPort video stream channels (in D1 resolution)
Supports video recording by schedule and event record
Built-in 2x2.5" SATA hard disk interface for storage hard disks*

-40 to 75°C operating temperature (requires solid state disk)
Modbus/TCP supported for direct communication with SCADA systems
Supports IEEE 802.1X for high network security
Robust, fanless, 19" rackmount design
*Hard disk not included in standard package
Introduction
The MxNVR-IA8 is a revolutionary new 8-channel industrial network video recorder designed for recording the VPort's MJPEG, MPEG4, and H.264 video streams in harsh environments. With rugged design features, such as no heater or fan, a -40 to 75°C operating temperature, and protection against high EMI and surges, as well as the ability to save bandwidth when transmitting video streams back to the remote control center or machine room for video recording, the MxNVR-IA8 is tailor-made for field site applications. Since videos are only transmitted when remote live view and video playback are required, you will see an improvement in network transmission efficiency and a noticeable reduction in your bandwidth investments.
•

Recording
No. of Streams
8 VPort video/audio streams
Stream Types
H.264, MPEG4, MJPEG
Video Input
via Ethernet
Video File Format
AVI
Record Modes
Manual, schedule, alarm
Pre-alarm Recording
Up to 30 sec.
Post-alarm Recording
Up to 60 sec.

•

Searching
Search Modes
Camera, date/time, event

•

Playback
Method
Remote access, FTP file download
Remote Access
Playback via web browser or client software
FTP File Downloads
Playback via popular media player (requires FFDShow)

•

Storage
Disk Interface
2 2.5" SATAII sockets
Note
Storage disks are not included. Users will need to purchase 2.5" hard disks or SSDs (solid state disks) from a hard disk vendor.

•

Network
Protocols
TCP/IP, UDP, HTTP, SMTP, NTP, DNS, DHCP, UPnP, RTP, RTSP, ICMP, IGMPv3, SNMPv1/v2c/v3, DDNS, FTP, Modbu/TCP, 802.1X
Ethernet
1 auto-sensing 10/100/1000BaseT(X) RJ45 connector
Connections
10

•

Data Ports (reserved for future use)
COM Ports
2 RS-232/422/485 ports, with DB9 male connectors (for external devices)
USB Ports
1 USB 2.0 port

•

GPIO
Digital Inputs
6, source type, 0 to 5 VDC at 15 Hz
Level 0: Close to GND
Level 1: Open
Digital Outputs
2, source type, 0 to 5 VDC, max. 20 mA
Level 0: 0 to 0.55 V
Level 1: 4.2 to 5.0 V

•

LED Indicators
STAT
Indicates if system has booted up and is operating properly
PWR
Power
HDD
Indicates if the hard disk is or is not working
FAULT
Can be set up to correspond with system alarms—video loss or network down
Video 1/2/3/4/5/6/7/8
The status of video channels 1 to 8

•

Power Requirements
Input Voltage
1 24 VDC power input with 3-pin terminal block connector
Power Consumption
Max. of 20 W (with 2 2.5" hard disks)

•

Physical Characteristics
Housing
Metal
Dimensions
440 x 44 x 325 mm (17.32 x 1.73 x 12.8 in)
Installation
19" rackmount

•

Security
Password
User level password protection
Filtering
By IP address
Authentication
802.1X

•

Environmental Limits
Operating Temperature

Standard Models: 0 to 60°C (32 to 140°F)
Wide Temp. Models: -40 to 75°C (-40 to 167°F)
Storage Temperature
-40 to 85°C (-40 to 185°F)
Ambient Relative Humidity
5 to 95% (non-condensing)

•

Standards and Certifications
Safety
UL 60950-1
EMI
FCC Part 15 Subpart B Class A, EN 55022 Class A
EMS

EN61000-4-2 (ESD), Level 3,
EN61000-4-3 (RS), Level 3,
EN61000-4-4 (EFT), Level 2,
EN61000-4-5 (Surge), Level 3,
EN61000-4-6 (CS), Level 3,
EN61000-4-8,
EN61000-4-11
Note
Please check Moxa's website for the most up-to-date certification status.

•

Warranty
Warranty Period
5 years
Details
www.anhnghison.com

•

Minimum Viewing System Requirements
CPU
Pentium 4, 2.4 GHz or above
Memory
512 MB memory or above
OS
Windows XP/2000 with SP4 or above, Windows Vista, Windows 7
Browser
Internet Explorer 9.x or above
Multimedia
DirectX 9.0c or above

•

Software Development Kit
VPort SDK PLUS
Includes CGI commands, ActiveX Control, and API library for customized applications or system integration for third-party developers (the latest version of SDK is vailable for download from Moxa's website).