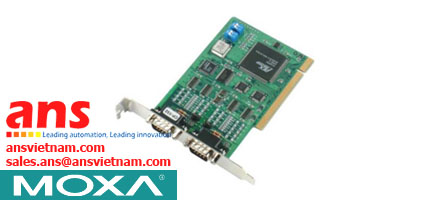 PCIe/UPCI/PCI Serial Cards CP-132 Series Moxa vietnam
Hãng sản xuất: Moxa
Liên hệ tư vấn

Sales ANS

sales.ans@ansvietnam.com

+84.8 3517 0401
PCIe/UPCI/PCI Serial Cards CP-132 Series Moxa vietnam
Phase-out and Last Buy Notice
The CP-132 series will be discontinued starting from September 1, 2017. The deadline for placing a final purchase order is March 1, 2017. Due to the limited availability of these products, orders will be processed till we run out of stock. For alternative solution, please contact your Moxa sales representative if you have further questions.
Features
2-port RS-422/485 high speed communication board
Compact PCI board size
Works perfectly with all major operating systems
Various connection options
Data transmission speed up to 921.6 Kbps
On-chip hardware flow control
Introduction
The CP-132 Series of 2-port serial boards is designed for RS-422/485 industrial communication. CP-132 serial boards support 2 independent RS-422 or RS-485 ports, with each port able to control up to 32 devices in a multidrop environment. This series of PCI 2-port serial boards provides a reliable communication link (RS-422/485) over a longer distance (up to 4000 ft), and is suitable for industrial environments.
By using ADDC™ (Automatic Data Direction Control) intelligence, applications can easily manage half-duplex RS-485 port's data transmission and receiving without the need for writing extra code. In addition, on-chip hardware flow control and built-in termination resistors guarantee data integrity, and optical isolation and surge protection options are also available to deliver high reliability. All of the above attributes make the CP-132 Series of multiport serial boards suitable for harsh industrial applications.
•

Hardware
Comm. Controller
16C550C or compatible x 2
Bus
32-bit PCI, ver. 2.1
Connector(s)
Male DB9

•

Serial Interface
Serial Standards
RS-422/485
Number of Ports
2
Number of Boards
4

•

Performance
Baudrate
50 bps to 921.6 Kbps

•

Serial Communication Parameters
Data Bits
5, 6, 7, 8
Stop Bits
1, 1.5, 2
Parity
None, even, odd, space, mark
Flow Control
RS-485 data control with ADDC™ or RTS
I/O Address
Assigned by BIOS
IRQ
Assigned by BIOS

•

Serial Signals
RS-422
TxD+, TxD-, RxD+, RxD-, RTS+, RTS-, CTS+, CTS-, GND
RS-485-2w
RS-485: Data+, Data-, GND

•

Driver Support
Operating Systems

Windows 2000/XP/2003, Windows NT, Windows 95/98/ME, Windows XP Embedded, DOS, FreeBSD 4.x, Linux 2.0.x (Alpha), Linux 2.2.x (Alpha), Linux Base

•

Physical Characteristics
Dimensions
120 x 80 mm (CP-132, CP-132S)
120 x 110 mm (CP-132I, CP-132IS)

•

Environmental Limits
Operating Temperature
0 to 55°C
Operating Humidity
5 to 95% RH
Storage Temperature
-20 to 85°C
Regulatory Approvals
FCC, CE

•

Power Requirements
Power Consumption
CP-132: 430 mA max. (+5V)
CP-132S: 430 mA max. (+5V)
CP-132I: 700 mA max. (+5V)
CP-132IS: 700 mA max. (+5V)
ESD Protection
25 KV ESD per serial port (CP-132S, CP-132IS)
Optical Isolation Protection
2 KV (CP-132I, CP-132IS)