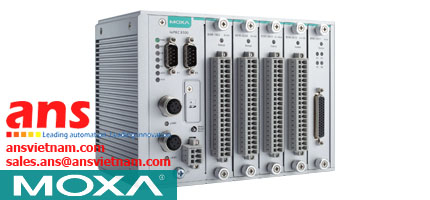 Programmable Controller Series ioPAC 8500 C/C++ Series Moxa vietnam
Hãng sản xuất: Moxa
Liên hệ tư vấn

Sales ANS

sales.ans@ansvietnam.com

+84.8 3517 0401
Programmable Controller Series ioPAC 8500 C/C++ Series Moxa vietnam
Features and Benefits
Dedicated ARM (RISC) CPUs for the main system and each I/O module
Millisecond timestamp granularity for digital input and analog input
Supports 5 kHz sampling rate for analog input
Pre-recording for analog input data logging
Supports C/C++ or IEC 61131-3 programming languages
Compliant with EN 50121-4, and EN 50155* specifications
Robust and compact design for harsh environments
Modular I/O for versatility, flexibility, and scalability
*Complies with a portion of EN 50155 specifications
Precise Data Acquisition

Moxa's ioPAC 8500 RTUs offer up to 40 kHz-level analog input sampling rate, giving engineers the analog data precision they need to correctly analyze events. In addition, the analog input pre-recording function allows the ioPAC 8500 RTUs to continuously record analog input data before an event trigger point for improved data completeness.

Sustainable System Reliability

The ioPAC 8500 RTU controllers are compliant with EN 50155, EN50121-3-2 and EN 50121-4 standards, which require products to withstand high levels of vibration, and provide surge and ESD protection for the power and communication ports. They also support a wide operating temperature range of -40 to 75°C.

Easy Data Acquisition

Moxa's ioPAC 8500 RTU controllers come with Moxa's patented Active OPC server and DA-Center software. Active OPC server adds a non-polling architecture to the standard OPC protocol, giving users the advantage of push-based communication from Moxa's controllers to the SCADA systems. DA-Center, on the other hand, provides a standard OPC interface that interacts with Moxa Active OPC Server for real-time data collection.

Easy to Deploy

Moxa's ioPAC 8500 modular RTU controllers support a versatile collection of I/O modules. The compact size and modular design make this ioPAC 8500 ideal for cabinets with limited space, and all of the I/O modules are hot-swappable to allow users to replace the modules without shutting down the system.
Fast Track Integration for Wayside Condition Monitoring and Preventive Maintenace
This white paper will discuss how railway operators are adopting increasingly sophisticated condition-based maintenance regimes to control costs and improve track performance, some of the key difficulties system integrators need to overcome when deploying wayside condition monitoring systems for railway preventive maintenance, and how using a single condition monitoring platform can save time and costs for deployment and maintenance.
Railway Preventive Maintenance Solutions Flyer
See how Moxa's ioPAC 8500 RTU controllers make railway preventive maintenance easy. The RTUs provide extremely accurate data, giving engineers the information they need to identify anomalous conditions, before failures occur. The ioPAC 8500 RTUs are also designed to work reliably in harsh environments, and modules can be easily replaced to shorten system downtime.
Dimensions
•

Computer
Main CPU
32-bit ARM9 192 MHz CPU
I/O CPU
32-bit ARM Cortex M4 80 MHz CPU
OS
Linux
Clock
Real-time clock with battery backup
Memory
• SDRAM: 64 MB
• Flash: 32 MB
• SRAM: 256 KB (battery backup lasts for 1 week)
• microSD™ Slot: Up to 32 GB (SD 2.0 compatible)
Note: For units operating in extreme temperatures, industrial-grade, widetemperature microSD cards are required.

•

Ethernet Interface
LAN
2 x 10/100 Mbps, 2 MACs (IPs), RJ45 or M12
Protection
1.5 kV magnetic isolation

•

Serial Interface
Interface
• 2 RS-232/422/485 ports, software selectable (DB9 male)
• 1 RS-232 debug port (4-pin connector)
Serial Line Protection
8 kV ESD for all signals

•

Serial Communication Parameters
Parity
None, Even, Odd
Data Bits
7, 8
Stop Bits
1, 2
Flow Control
RTS/CTS, XON/XOFF
Baudrate
300 bps to 921.6 kbps

•

Serial Signals
RS-232
TxD, RxD, DTR, DSR, RTS, CTS, DCD, GND, RI
RS-422
Tx+, Tx-, Rx+, Rx-, GND
RS-485-4w
Tx+, Tx-, Rx+, Rx-, GND
RS-485-2w
Data+, Data-, GND

•

Software Characteristics
Automation Languages
C/C++ or IEC 61131-3
Protocols
Modbus TCP/RTU (master/slave), SNMP, TCP/IP, UDP, DHCP, BOOTP, SNTP, SMTP

•

Power Requirements
Input Voltage
24 VDC (9 to 48 VDC)
Input Current
152 mA @ 24 VDC

•

Physical Characteristics
Housing
Aluminum
Dimensions
• 2-slot version: 114.7 x 135 x 100 mm (4.52 x 5.31 x 3.94 in)
• 5-slot version: 190.9 x 135 x 100 mm (7.52 x 5.31 x 3.94 in)
• 9-slot version: 292.5 x 135 x 100 mm (11.52 x 5.31 x 3.94 in)
Weight
• 2-slot version: 1300 g (2.87 lb)
• 5-slot version: 2000 g (4.41 lb)
• 9-slot version: 2575 g (5.68 lb)
Mounting
DIN rail (standard), wall (optional)
Connector
Spring-type terminal block

•

Environmental Limits
Operating Temperature
-40 to 75°C (-40 to 176°F)
Storage Temperature
-40 to 85°C (-40 to 185°F)
Ambient Relative Humidity
5 to 95% (non-condensing)
Shock
IEC 60068-2-27
Vibration
IEC 60068-2-6
Altitude
Up to 2000 m
Note: Please contact Moxa if you require products guaranteed to function
properly at higher altitudes.

•

Standards and Certifications
Safety
UL 508
EMC
EN 55032, EN 55024
EMI
FCC Part 15 Subpart B Class A, CISPR 32
EMS
IEC 61000-4-2 ESD: Contact: 6 kV; Air: 8 kV
IEC 61000-4-3 RS:
80 MHz to 1000 MHz: 3 V/m
1400 MHz to 2100 MHz: 3 V/m
2100 MHz to 2700 MHz: 1 V/m
IEC 61000-4-4 EFT: Power: 1 kV; Signal: 0.5 kV
IEC 61000-4-5 Surge: Power: 2 kV (L-PE), 1 kV (L-L);
Rail Traffic
EN 50155*, EN 50121-4
*Complies with a portion of EN 50155 specifications.
Note: Please check Moxa's website for the most up-to-date certification status.

•

MTBF (mean time between failures)
Time
859,979 hrs
Standard
Telcordia SR332

•

Warranty
Warranty Period
5 years
Details
www.anhnghison.com