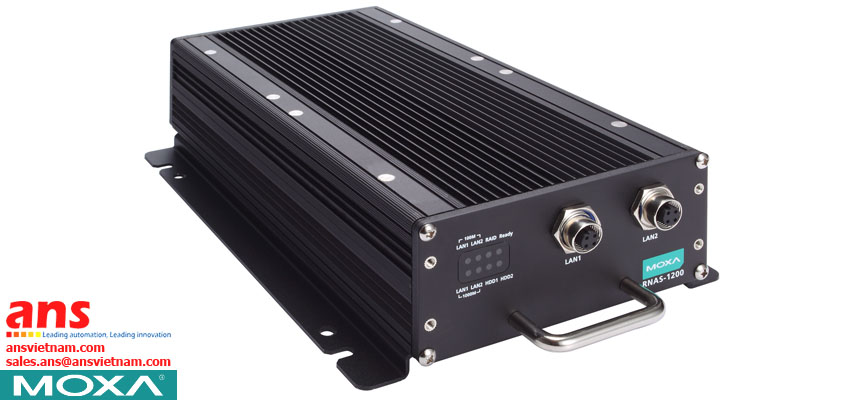 Rail Computers RNAS-1200 Moxa vietnam
Hãng sản xuất: Moxa
Liên hệ tư vấn

Ms My

my.duong@ansgroup.asia

0938.140.396

my.duong@ansgroup.asia
Rail Computers RNAS-1200 Moxa vietnam
Phase-out and Last Buy Notice
The RNAS-1200 series will be discontinued starting June 2, 2017. The deadline for placing a final purchase order is Sep. 7, 2017. Due to the limited availability of these products, orders will be processed till we run out of stock.
For alternative solution, please visit our RailComputers.
---
Features
2 gigabit Ethernet ports for network redundancy

2 100 GB disks pre-installed (RNAS-1211-T model only)

Complies with all EN 50155 mandatory test items*

IEC 61373 certified for shock and vibration resistance

JBOD, BIG, RAID 0, and RAID 1 functions available

IHS (Intelligent Heating Solution) technology for reliable operation

Data XPro for data protection in harsh environments
Overview
Moxa's RNAS-1200 network-attached storage (NAS) units provide high performance, high reliability, and high capacity data storage in harsh industrial environments. All RNAS-1200 devices are housed in a fanless, thermally efficient, dust and water-protected IP54-rated chassis. This sealed enclosure eliminates internal fans as a point of critical system failure, and protects the internal components from dust and water splashes. RNAS-1200 devices are compliant with mandatory sections of EN 50155, covering operating temperature, power input voltage, surge, ESD, and vibration, as well as conformal coating and power insulation, making them suitable for a variety of industrial applications.
RNAS-1200 devices also come with Moxa's Intelligent Heating Solution™ (IHS) and Data XPro™ technologies. IHS automatically heats the system to ensure reliable operation even in extremely low temperatures, while the Data XPro™ utility provides intelligent data and drive protections against extreme heat and vibration. In addition, the series' remarkably fast array synchronizations make the full data and hardware redundancies of RAID 1 a feasible alternative for industrial applications, while the two gigabit PoE+ network interfaces provide not only network redundancy, but also a highly efficient, fully redundant power supply over the same set of wires.
The RNAS-1200 Series combines simple configuration and multiple data and hardware redundancies in a compact, durable, fanless chassis ideal for industrial environments where extreme temperatures and vibration are a concern. The RNAS-1200 NAS devices are your best choice for industrial-strength data storage for rolling stock video surveillance or remote site data storage applications.
RNAS-1200 Hard Disk Compatibility List
Note: the RNAS-1200 hard disk compatibility list is available at:
http://moxa-vietnam.ansvietnam.com/
White Paper:
Illustrating the Technology Behind Industrial-Grade NAS
Network-attached storage (NAS) appliances have gained a firm foothold in consumer markets, and have long dominated in enterprise-scale networks. Now, NAS is gaining further ground in the industrial world, particularly in transportation solutions, but also in other harsh environments like wind farms, electrical substations, or other remote installations. In this paper, learn about what challenges a NAS device engineered for industrial-grade purposes must overcome, and how technology is developing to overcome trials such as extreme temperatures of both cold and heat, high vibration, sudden shocks, network and power redundancy, resource conservation, and data security.
---------------------------------------------------------------------------------------------

White Paper:
Railway Data Security: Building a Durable NVR Platform
In this white paper, Moxa identifies a few solutions to the key challenges railway operators face when trying to secure their data and devices against the peculiar tests of the railway environment. Taking network video recording devices as the stepping off point, we give a brief analysis of how a train's vibrations, extreme temperature fluctuations, and power supply can adversely affect device functioning and durability. The paper then goes on to consider how thoughtful engineering can eliminate these factors as a point of concern, while at the same time building strong value for the customer through carefully considered, centralized, and automated controls and failsafes.
---------------------------------------------------------------------------------------------
White Paper:

Engineering One Computing Platform for All Classes
of Train
This whitepaper discusses the various applications and subsystems to which an on-board train computer may be applied, outside of signaling and control. Most talk within the train industry focuses the vital signaling and control automation; however, today's trains and other forms of mass transit have many more demands beyond these critical systems. Each class of train has specific requirements and needs that are defined by its on-board auxiliary automation systems. While these requirements vary according to the train environment being served, a core set of hardware requirements may be met that will allow a single, extensible computer to serve in virtually any on-board auxiliary role required. This white paper examines what these core requirements are, and shows how careful computer engineering can cut deployment and integration times for engineers tasked with building on-board train systems.

------------------------------------------------------------------------------------------------------
Railway CCTV Flyer

Moxa's integrated CCTV solutions unify railway security with convenient, cost-effective, and long-lasting IP cameras, computers, network storage, and network devices.
Hardware Specifications

•

Computer
CPU
Onboard Marvell 1.0 GHz 88F6281
DRAM
512 MB DDRII
Flash Memory
Onboard 2 GB USB DOM to store OS

•

Storage
RNAS-1201-T
2.5-inch HDD bay x 2, reserved for storage expansion
RNAS-1211-T
100 GB HDD x 2 pre-installed

•

Ethernet Interface
LAN
Auto-sensing 10/100/1000 Mbps ports (M12) x 2

•

IHS Control
IHS Function Control
Temperature reading, power output control for heating function

•

LEDs
System
RAID, Ready, HDD1, HDD2
LAN
100M/Link x 2, 1000M/Link x 2

•

Physical Characteristics
Housing
Aluminum
Weight
RNAS-1201-T: 1.98 kg (4.4 lb)
RNAS-1211-T: 2 kg (4.44 lb)
Dimensions
252 x 130 x 57 mm (9.92 x 5.12 x 2.24 in)
Mounting
Wall
IP Rating
IP 54

•

Environmental Limits
Operating Temperature
-40 to 70°C (-40 to 158°F)
Storage Temperature
-40 to 85°C (-40 to 176°F)
Ambient Relative Humidity
5 to 95% (non-condensing)
Anti-Vibration
EN 50155 standard
Anti-Shock
EN 50155 standard
Conformal Coating
Available on request

•

Power Requirements
Input
PoE (IEEE 802.3af), or PoE+ (IEEE 802.3at)
Note: If the RNAS-1200 is connected to a PoE switch and T1 mode has been configured, the RNAS-1200 should only be booted up when the ambient temperature is above 0°C.

•

Standards and Certifications
Safety
UL 60950-1
EMC
EN 55032/24
EMI
CISPR 32, FCC Part 15B Class A
EMS
IEC 61000-4-2 ESD: Contact: 6 kV; Air: 8 kV
IEC 61000-4-3 RS: (80 MHz to 1 GHz: 20 V/m
IEC 61000-4-4 EFT: Power: 2 kV; Signal: 2 kV
IEC 61000-4-5 Surge: Power: 2 kV; Signal: 2 kV
IEC 61000-4-6 CS: 10 V
IEC 61000-4-8
Green Product
RoHS, CRoHS, WEEE
Rail Traffic
EN 50155*, IEC 61373
*This product is suitable for rolling stock railway applications, as defined by the EN 50155 standard. For a more detailed statement, click here ansvietnam.com/moxa-pdf/moxa-vietnam-ansvietnam-EN_50155_Compliance.pdf

•

MTBF (mean time between failures)
Time
RNAS-1211: 486,185 hrs
RNAS-1201: 503,159 hrs
Standard
Telcordia (Bellcore) Standard TR/SR

•

Warranty
Warranty Period
5 years (storage drive not included)
Details
www.anhnghison.com
Note: These hardware specifications describe the NAS unit itself, but not its recommended accessories. In particular, the wide temperature specification does not apply to accessories such as power adapters and cables.

S

oftware Specifications

•

Operating System
System Platform
Linux 2.6 pre-installed

•

Network
IP Settings
Fixed IP, DHCP
Redundancy
Port trunking / NIC teaming

•

System Management
Firmware Upgrade
Can be run via web interface
System Bootup
Can be observed by LED indicators for system status
HDD Failure Status
Can be observed by LED indicators

•

Disk Management
JBOD
Two hard disks can work independently
Spanning Big
Two hard disks can be merged as spanning big mode
RAID 0
Two hard disks can be merged and work in RAID 0 mode
RAID 1
Two hard disks can be merged and work in RAID 1 mode
HDD Recovery
Support automatic or manual data recovery when new had disk has been inserted

•

Data Protection
Vibration Protection
Storage buffer available for strong vibration status
Temperature Protection
Storage buffer available for low/high temperature environment
Fast Sync.
Fast synchronization in RAID 1 mode

•

SNMP Management
System
Standard MIB-II (RFC 1213), plus additional Moxa features that include: NTP, time zone, and time display management; channel bonding and IP configuration; management of SSH, FTP, and DNS; and configuration of SNMP agents and traps.