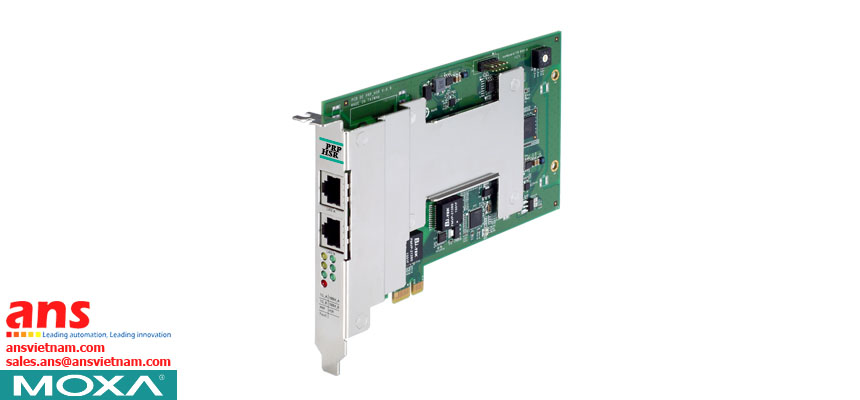 Power Substation Computers DA-820 Series Expansion Modules Moxa vietnam
Hãng sản xuất: Moxa
Liên hệ tư vấn

Sales ANS

sales.ans@ansvietnam.com

+84.8 3517 0401
Power Substation Computers DA-820 Series Expansion Modules Moxa vietnam
Features and Benefits
DA-PRP-HSR Expansion Module
IEC 62439-3 compliant
PRP (Parallel Redundancy Protocol) to guarantee data transfer with zero-time recovery
HSR (High-availability Seamless Redundancy) for seamless data transfer with zero-time switchover in a ring network
PRP/HSR software configuration tools
PRP/HSR management middleware with standard MMS interface
Universal PCIe expansion module
-40 to 60°C operating temperature range
DA-IRIG-B-S-02-T Expansion Module
IRIG-B expansion module, PCI interface, 1 fiber IRIG-B in, 1 DB9M in/out, 1 DB9M out
DA-IRIG-B-S-04-T Expansion Module
IEIRIG-B expansion module, PCI interface, 1 fiber IRIG-B in, 1 DB9M in/out, 3 DB9M out
DE-GX02-SFP-T Expansion Module
2-port 1000 Mbps fiber card, SFP slot x 2, PCIe interface (SFP module excluded)
DE-FX02-SFP-T Expansion Module
2-port 100 Mbps fiber card, SFP slot x 2, PCIe interface (SFP module excluded)
Overview
The DA-PRP-HSR expansion module is compliant with IEC 62439-3 Clause 4 (PRP) and IEC 62439-3 Clause 5 (HSR) to ensure the highest system availability and data integrity for mission-critical applications that require redundancy and zero-time recovery.
With dual Gigabit Ethernet port design, the DA-PRP-HSR provides high performance for redundant network systems. In addition, the DA-PRPHSR features a built-in native PRP/HSR management middleware with MMS server that allows SCADA to collect IEC62439-3 registers from multiple devices for easy network diagnosis, troubleshooting, device management, and monitoring.
Moxa's DA-820 series industrial computer with the DA-PRP/HSR is the ideal solution for power substation automation and process automation systems.
White Paper
Enabling Efficient and Visually Represented PRP/HSR Network Management
Creating a network management interface of devices and systems using different protocols can create risks and management issues that compromise effectiveness and security for substation automation networks. An efficient and visually represented PRP/HSR network using power SCADA with specially designed management middleware can effectively avoid these problems........more

-----------------------------------------------------------------------------------------------------------------------------------------------
Building the Industrial Cloud:The Immediate Future of M2M Technology
In 2013, substantial steps towards building the Internet of Things at last began to materialize. In this white paper, Moxa examines the sorts of technology industrial networks will be relying on as they begin to build and deploy machine-to-machine networks. Software automations, hardware optimizations, and integrated platforms that fully exploit the convergence of these two main branches of system design are examined closely, to give IA and IT engineers a better idea of what challenges and obstacles they should be preparing for at the dawn of this new technological epoch........more
-----------------------------------------------------------------------------------------------------------------------------------------------
White Paper
Making Smart Substations Even Smarter: Enhancing Substation Reliability, Availability, and Maintainability
This paper sketches out a few of the more important concerns that electricity suppliers should account for when planning substation upgrades. The focus is on how best to increase the reliability, availability, and maintainability of power substation automation networks within the context of the IEC 61850 vision, to give electricity suppliers a clear idea of the design procedures, device tolerances, and hardware and software features they should expect from the engineers and manufacturers who design and build their networking and computing devices.......more
-----------------------------------------------------------------------------------------------------------------------------------------------
White Paper
Using MMS and SNMP to Integrate IT Management for Substation Automation
The devices that electrical substation automation systems are built from depend on highly precise, time-critical communications. Substation thus often use highly specialized monitoring systems to tackle this problem, but can approach it using different technologies. The most up-to-date, "smart" substations use the Manufacturing Messaging Specification (MMS) for communications among IEC 61850 intelligent electronic devices (IEDs), allowing SCADA to monitor and control IED states as well as process switchgear and transformer data directly. However, IT networking devices have been increasingly applied in IEC 61850 systems, and this equipment communicates using SNMP. Consequently, in the modern substation automation industry it's clear that, for the time being, SNMP and MMS will continue to exist side-by-side. For designers and integrators of electrical substation equipment, bringing both MMS and SNMP support to IT equipment is an ideal, one-size fits-all alternative that allows for the greatest flexibility and adaptability around........more
DA-PRP-HSR Expansion Module Hardware Specifications

•

Ethernet Interface
LAN
2 auto-sensing 100/1000 Mbps unmanaged Ethernet switch ports (RJ45)
Magnetic Isolation Protection
15 kV built-in

•

Physical Characteristics
Weight
225 g
Dimensions
167 x 111 mm (6.6 x 4.38 in)

•

Environmental Limits
Operating Temperature
-40 to 60°C (-40 to 140°F)

•

Standards and Certifications
Safety
LVD, UL, cUL
Electrical Substation
IEC 61850-3, IEC 60255, IEEE 1613
Protection Relay
IEC 60255
EMC
FCC, CE (Class A)
Green Product
RoHS, CRoHS, WEEE

•

Warranty
Warranty Period
3 years
Details
www.anhnghison.com

•

•

Software Specifications

•

PRP/HSR Configuration Utility
PRP/HSR mode selection
Multiple PRP/HSR expansion card configuration

•

Built-in MMS Server Management Middleware
PRP/HSR device information collection using SNMP
Transmission of IEC62439-3 registry information to SCADA