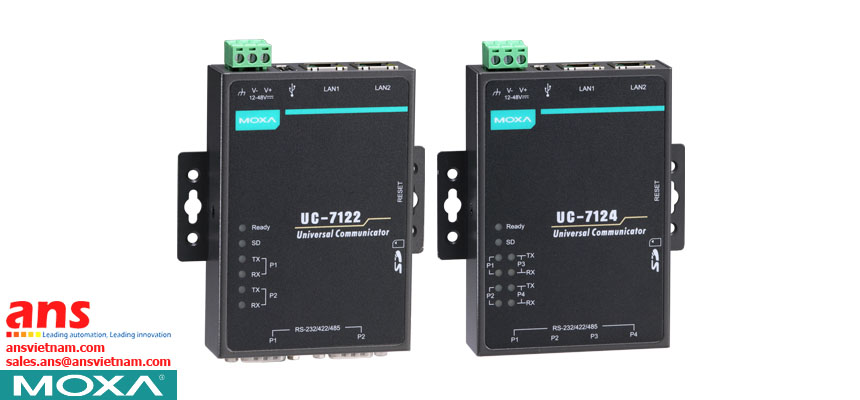 RISC UC-7122/UC-7124 Moxa vietnam
Hãng sản xuất: Moxa
Liên hệ tư vấn

Ms. Hân

han@ansgroup.asia

0937.720.487

live:.cid.d8447f86f4b0447b
RISC UC-7122/UC-7124 Moxa vietnam
Features and Benefits
Cirrus Logic EP9302 ARM9 32-bit 200 MHz processor
On-board 32 MB RAM, 16 MB flash disk
2 or 4 software-selectable RS-232/422/485 serial ports
50 bps to 921.6 kbps baudrate (nonstandard baudrates supported)
Dual 10/100 Mbps Ethernet for network redundancy
SD socket for storage expansion supported
Built-in real-time clock (RTC), buzzer, watchdog timer (WDT)
Ready-to-run WinCE 5.0 platform
-40 to 75°C wide temperature models available
Overview
The UC-7122/7124 embedded computers come with 2 or 4 RS- 232/422/485 serial ports and dual 10/100 Mbps Ethernet LAN ports to provide users with a versatile communication platform, making these RISC-based embedded computers ideal for your embedded applications.
The UC-7122/7124 embedded computers use the Cirrus Logic EP9302 ARM9 200 MHz RISC CPU. Unlike the x86 CPU, which uses a CISC design, the ARM9's RISC design architecture and modern semiconductor technology provide the UC-7122/7124 with a powerful computing engine and communication functions, but without generating too much heat. Moreover, the built-in 16 MB NOR Flash ROM and 32 MB SDRAM give you enough storage capacity to run applications on the UC-7122/7124 computers. The additional SD socket provides the flexibility of adding storage expansion disks, and the dual LAN ports built into the ARM9 make the UC-7122/7124 ideal communication platforms for simple data acquisition and protocol conversion applications. The RS-232/422/485 serial ports on these computers allow you to connect a variety of serial devices. These features ensure that the UC-7122/7124 embedded computers are convenient and powerful central control units for industrial applications, such as data acquisition, remote device control and monitoring, and protocol conversion.
The pre-installed WinCE 5.0 operating system provides a common Windows-based software operating system for software program development. This means that software written in Visual C/C++ for desktop PCs can easily be ported to the UC-7122/7124 computers with a general programming tool such as Microsoft Embedded Visual C++ or Microsoft Visual Studio 2005. You will not need to spend time modifying existing software code, the operating system, device or the drivers. You can store the software that you created on the computer's flash memory without any modification.
White Paper
Building a Future-Proof Data Processing Solution with Intelligent IoT Gateways
To date, most discussions about the
Industrial Internet of Things (IoT) have been about connecting new devices and rapidly bringing them online. In this white paper we look at the implications of bringing such a large number of devices online, namely, the need for efficient methods to collect information from these devices, and discuss how to handle the large amount of data collected from these devices.
Industrial IoT solutions are judged on their ability to adapt to various data acquisition needs and how they can transform the data collected from devices into useful business insights that can help decision makers. What makes an Industrial IoT solution truly stand out is the flexible data handling possibilities that it can provide...........more
---
White Paper
Developing a Data Acquisition Platform for Industrial IoT Applications
The impact the Internet has had on the way humans live their
lives has been unprecedented. It has allowed us to communicate and interact with each other in ways previously unimaginable. Recently, it has opened the door for what many are describing as something that will become more important to our everyday lives than the Internet, the Internet of Things (IoT). One of the most exciting possibilities is in industrial applications, more commonly referred to as the Industrial Internet of Things (Industrial IoT), where communication and interaction capabilities can be extended to devices or things used for factory automation, renewable energy applications, smart grids, intelligent transportation systems, and even oil and gas applications..........more
---
Application Notes
Accelerate your IIoT-Ready Applications with Smart Industrial Computing
Data is at the heart of the Internet of things (IoT).
To make critical data-informed decisions, businesses first need to capture and collect data from all sorts of devices over the Internet before converting the data into valuable business information. Moxa has applied its rich experience in the industrial automation field to provide industrial computing solutions that integrate data acquisition and device management for large-scale, Industrial IoT applications. In this brochure, we will examine several typical applications to see how Moxa's solutions can help businesses conquer the challenges in the Industrial IoT environments...........more
Hardware Specifications

•

Computer
CPU
Cirrus EP9302 ARM9 CPU, 200 MHz
USB
USB 2.0 hosts x 1, type A connector
DRAM
DDR2 SDRAM, 32 MB
Flash
NOR Flash, 16 MB
OS (pre-installed)
Windows CE 5.0

•

Storage
Storage Expansion
SD slot

•

Ethernet Interface
LAN
Auto-sensing 10/100 Mbps ports (RJ45) x 2
Magnetic Isolation Protection
1.5 kV, built-in

•

Serial Interface
Serial Standards
UC-7122: RS-232/422/485 ports, software-selectable (DB9 male) x 2
UC-7124: RS-232/422/485 ports, software-selectable (RJ45) x 4
ESD Protection
4 kV for all signals
Console Port
RS-232 (TxD, RxD, GND), 4-pin pin header output

•

Serial Communication Parameters
Data Bits
5, 6, 7, 8
Stop Bits
1, 1.5, 2
Parity
None, Even, Odd, Space, Mark
Flow Control
RTS/CTS, XON/XOFF, ADDC® (automatic data direction control) for RS-485
Baudrate
50 bps to 921.6 kbps (supports nonstandard baudrates; see user's manual for details)

•

Serial Signals
RS-232
TxD, RxD, DTR, DSR, RTS, CTS, DCD, GND
RS-422
TxD+, TxD-, RxD+, RxD-, GND
RS-485-4w
TxD+, TxD-, RxD+, RxD-, GND
RS-485-2w
Data+, Data-, GND

•

LEDs
System
Ready, SD
LAN
10M/Link x 2, 100M/Link x 2 (on connector)
Serial
TxD, RxD (2 or 4 of each)

•

Physical Characteristics
Housing
Aluminum (1 mm)
Weight
UC-7122: 190 g (0.42 lb)
UC-7124: 200 g (0.44 lb)
Dimensions
77 x 111 x 26 mm (3.03 x 4.37 x 1.02 in)
Mounting
DIN rail, wall

•

Environmental Limits
Operating Temperature
Standard Models: -10 to 60°C (14 to 140°F)
Wide Temp. Models: -40 to 75°C (-40 to 167°F)
Storage Temperature
Standard Models: -20 to 80°C (-4 to 176°F)
Wide Temp. Models: -40 to 85°C (-40 to 185°F)
Ambient Relative Humidity
5 to 95% (non-condensing)
Anti-Vibration
1 Grms @ IEC-68-2-6, sine wave (resonance search), 5-500 Hz, 1 Oct/min, 1 cycle, 13 min 17 sec per axis

•

Power Requirements
Input Voltage
12 to 48 VDC
Input Current
UC-7122:
• 170 mA @ 24 VDC
• 340 mA @ 12 VDC
UC-7124:
• 180 mA @ 24 VDC
• 360 mA @ 12 VDC
Power Consumption
• UC-7122: 4.1 W
• UC-7124: 4.3 W

•

Standards and Certifications
Safety
UL 60950-1, CSA C22.2 No. 60950-1-03, EN 60950-1
EMC
EN 55032 Class A, EN 61000-3-2 Class A, EN 61000-3-3, EN 55024, FCC Part 15 Subpart B Class A
Green Product
RoHS, CRoHS, WEEE

•

Reliability
Alert Tools
Built-in buzzer and RTC (real-time clock)
Automatic Reboot Trigger
Built-in WDT (watchdog timer)

•

MTBF (mean time between failures)
Time
• UC-7122: 234,746 hrs
• UC-7124: 210,233 hrs
Standard
Telcordia (Bellcore) Standard

•

Warranty
Warranty Period
5 years
Details
www.anhnghison.com
Note: The Hardware Specifications apply to the embedded computer unit itself, but not to accessories. In particular, the wide temperature specification does not apply to accessories such as the power adapter and cables.
Software Specifications

•

Windows Embedded CE 5.0
OS
Windows Embedded CE 5.0
File System
FAT (for onboard flash memory)
Internet Protocol Suite
TCP, UDP, IPv4, SNMPv2, ICMP, IGMP, ARP, HTTP, CHAP, PAP, SSL, DHCP, SNTP, SMTP, Telnet, FTP, PPP
Web Server (WinCE IIS)
Supports ASP, ISAPI Secure Socket Layer (SSL 2/3) and Transport Layer Security (TLS/SSL 3.1) public key-based protocols, and Web Administration ISAPI Extensions
Dial-up Networking
Supports RAS client API and PPP, Extensible Authentication Protocol (EAP), and RAS scripting
Watchdog
Features a hardware function to trigger system reset based on a user-specified time interval. (Moxa API provided)
Application Development Software
• Moxa WinCE 5.0 SDK
• Moxa API Library
• C runtime libraries
• Component Services (COM and DCOM)
• Microsoft® .NET Compact Framework 2.0 with SP2
• XML, including DOM, XQL, XPATH, XSLT, SAX, SAX2
• SOAP Toolkit
• Winsock 2.2