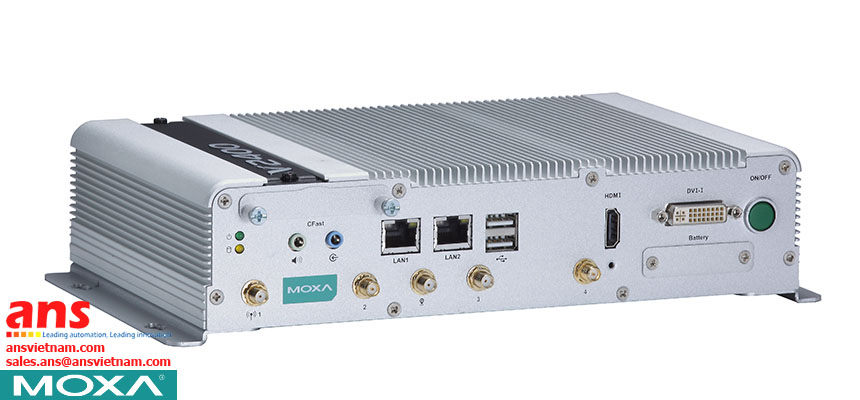 x86 V2403 Series Moxa vietnam
Hãng sản xuất: Moxa
Liên hệ tư vấn

Ms. Hân

han@ansgroup.asia

0937.720.487

live:.cid.d8447f86f4b0447b
x86 V2403 Series Moxa vietnam
Features
Intel Core-i series processor with three performance options
-40 to 70°C (system+LTE) operating temperature
Dual CFast sockets for storing OS and OS backup
Triple mini-PCIe sockets for storage and wireless modules; supports mSATA, Wi-Fi, 3G, LTE, GPS, and Bluetooth
Variety of interfaces: 4 serial ports, 2 Ethernet LAN ports, 4 DIs, 4 DOs, USB, HDMI, wireless
EN 61000-6-2 and EN 61000-6-4 certification; meets EMC standard for heavy industry
Up to 5 Grms anti-vibration and 100 g/11 ms anti-shock
Ready-to-run Debian 8 and Windows Embedded Standard 7 platforms
Moxa Proactive Monitoring utility for system hardware health monitoring
Moxa Smart Recovery utility to recover system from boot failure (W7E only)
Overview
The Moxa V2403 series fanless x86 embedded computer is based on the Intel® 3rd gen Core-i™ series processor, features the most reliable I/O design to maximize connectivity, and supports dual wireless modules, making it suitable for a diverse range of communication applications. The computer's thermal design ensures reliable system operation in temperatures ranging from -40 to 70°C (with a special purpose Moxa wireless module installed). The V2403 series supports "Moxa Proactive Monitoring" for device I/O status monitoring and alerts, system temperature monitoring and alerts, and system power management. Monitoring system status closely makes it easier to recover from errors and provides the most reliable platform for your applications.
Applications
• Remote Terminal Unit (RTU)
• Data acquisition
• M2M communication (smart gateway)
• Digital signage
• Factory automation
• In-vehicle monitor/data logger (transportation)
• Programmable router
• Energy usage optimization
• Predictive maintenance
• Asset management
White Paper
Building a Future-Proof Data Processing Solution with Intelligent IoT Gateways
To date, most discussions about the
Industrial Internet of Things (IoT) have been about connecting new devices and rapidly bringing them online. In this white paper we look at the implications of bringing such a large number of devices online, namely, the need for efficient methods to collect information from these devices, and discuss how to handle the large amount of data collected from these devices.
Industrial IoT solutions are judged on their ability to adapt to various data acquisition needs and how they can transform the data collected from devices into useful business insights that can help decision makers. What makes an Industrial IoT solution truly stand out is the flexible data handling possibilities that it can provide...........more
---
White Paper
Developing a Data Acquisition Platform for Industrial IoT Applications
The impact the Internet has had on the way humans live their
lives has been unprecedented. It has allowed us to communicate and interact with each other in ways previously unimaginable. Recently, it has opened the door for what many are describing as something that will become more important to our everyday lives than the Internet, the Internet of Things (IoT). One of the most exciting possibilities is in industrial applications, more commonly referred to as the Industrial Internet of Things (Industrial IoT), where communication and interaction capabilities can be extended to devices or things used for factory automation, renewable energy applications, smart grids, intelligent transportation systems, and even oil and gas applications..........more
---
Application Notes
Accelerate your IIoT-Ready Applications with Smart Industrial Computing
Data is at the heart of the Internet of things (IoT).
To make critical data-informed decisions, businesses first need to capture and collect data from all sorts of devices over the Internet before converting the data into valuable business information. Moxa has applied its rich experience in the industrial automation field to provide industrial computing solutions that integrate data acquisition and device management for large-scale, Industrial IoT applications. In this brochure, we will examine several typical applications to see how Moxa's solutions can help businesses conquer the challenges in the Industrial IoT environments...........more
Hardware Specifications

•

Computer
CPU
V2403-C2 Series: Intel® Celeron 1047UE (Dual Core, 2M Cache, 1.40 GHz)
V2403-C3 Series: Intel® Core i3-3217UE (Dual Core, 3M Cache, 1.60 GHz)
V2403-C7 Series: Intel® Core i7-3517UE (Dual Core, 4M Cache, 1.70 GHz)
OS
Windows Embedded Standard 7 64-bit or Linux Debian 8 64-bit
System Memory
1 DDR3-1600 SDRAM slot, 8 GB max.
USB
USB 2.0 hosts x 4, type A connectors, supporting system boot up

•

Storage
CFast
1 removable CFast socket for OS storage, 1 internal CFast socket for OS backup
mSATA
1 internal mini-PCIe socket for storage expansion
SSD/HDD
1 internal SATA-II connector for 2.5" SSD/HDD

•

Audio
Input
Line-in interface (audio jack)
Output
Line-out interface (audio jack)

•

Wireless Peripherals
Expansion Slot
2 Mini-PCIe sockets
• 1 USB signal, for Sierra Wireless 3G/LTE module
• 1 USB + PCIe signal
USIM
2 USIM slots

•

Display
Graphics Controller
Intel® HD (integrated)
Connector Type
1 HDMI connector (type A), 1 DVI-I connector, 1 VGA connector (CV required)
Display Interface
HDMI supports HDMI 1.4b, 1920 x 1200 resolution @ 60 Hz
• DVI up to 1920x1200 resolution @ 60 Hz
• VGA up to 1920x1200 resolution @ 60 Hz
• VGA up to 2048x1536 resolution @ 75 Hz

•

Ethernet Interface
LAN
Auto-sensing 10/100/1000 Mbps ports (RJ45) x 2
Isolation Protection
1.5 kV

•

Wireless SMA Interface
Wi-Fi
2 SMA connectors
3G/LTE
2 SMA connectors
GPS
1 SMA connector

•

Serial Interface
Serial Standards
RS-232/422/485 software selectable ports (DB9 male) x 4

•

Serial Communication Parameters
Data Bits
5, 6, 7, 8
Stop Bits
1, 1.5, 2
Parity
None, Even, Odd, Space, Mark
Flow Control
RTS/CTS, XON/XOFF, ADDC® (automatic data direction control) for RS-485
Baudrate
50 bps to 921.6 kbps

•

Serial Signals
RS-232
TxD, RxD, DTR, DSR, RTS, CTS, DCD, GND
RS-422
TxD+, TxD-, RxD+, RxD-, GND
RS-485-4w
TxD+, TxD-, RxD+, RxD-, GND
RS-485-2w
Data+, Data-, GND

•

Digital Input
Input Channels
DI x 4
Input Voltage
0 to 30 VDC at 25 Hz
Digital Input Levels for Dry Contacts
Logic level 0: Close to GND
Logic level 1: Open
Digital Input Levels for Wet Contacts
Logic level 1: +3 V max
Logic level 0: +10 V to +30 V (Source to DI)
Connector Type
10-pin screw-fastened Euroblock terminal
Isolation
3 kV optical isolation

•

Digital Output
Output Channels
DO x 4, sink type
Output Current
Max. 200 mA per channel
On-State Voltage
24 VDC nominal, open collector to 30 VDC
Connector Type
10-pin screw-fastened Euroblock terminal
Isolation
3 kV optical isolation

•

LEDs
System
Power
Storage
CFast/SSD/HDD/mSATA
LAN
2 LEDs per port (10/100/1000 Mbps)
Serial
2 LEDs per port (Tx and Rx)

•

Switches and Buttons
Power Switch
on/off
Reset Button
System reset

•

Physical Characteristics
Housing
Aluminum
Weight
"-W" Models: 2.247 kg (4.99 lb)
non "-W" Models: 2.168 kg (4.82 lb)
Dimensions
Without ears: 250 x 57 x 154 mm (9.84 x 2.23 x 6.06 in)
With ears: 275 x 63 x 154 mm (10.83 x 2.47 x 6.06 in)
Mounting
DIN rail, wall

•

Environmental Limits
Operating Temperature
Standard models: -40 to 70°C (-40 to 158°F), with Moxa recommended wireless modules (3G/LTE + Wi-Fi) installed
Storage Temperature
-40 to 85°C (-40 to 185°F)
Ambient Relative Humidity
5 to 95% (non-condensing)
Anti-Vibration
IEC 60068-2-64: 5 Grms, 5 Hz to 500 Hz, 1 hr/axis w/ mSATA, CFast, SSD
Anti-Shock
IEC 60068-2-27: 50 g/11ms ±X, ±Y, ±Z, 3 shocks each axis w/ mSATA, CFast, SSD

•

Power Requirements
Input Voltage
9 to 36 VDC (3-pin terminal block for V+, V-, SG)
Input Current
• 3.51 A @ 9 VDC
• 1.39 A @ 24 VDC
• 0.93 A @ 36 VDC
Power Consumption
34 W

•

Standards and Certifications
Safety
UL 60950-1, CSA C22.2 No. 60950-1-03 (60950-1-07), EN 60950-1, UL 508
EMC
EN 55032/24, EN 61000-6-2/6-4
EMI
CISPR 32, FCC Part 15B Class A
EMS
IEC 61000-4-2 ESD: Contact: 4 kV; Air: 8 kV
IEC 61000-4-3 RS: 80 MHz to 1 GHz: 10 V/m
IEC 61000-4-4 EFT: Power: 2 kV; Signal: 1 kV
IEC 61000-4-5 Surge: Power: 2 kV; Signal: 1 kV
IEC 61000-4-6 CS: Signal: 1 kV
IEC 61000-4-8
Green Product
RoHS, CRoHS, WEEE

•

Reliability
Automatic Reboot Trigger
Software-programmable watchdog timer configurable from 1 to 255 seconds

•

MTBF (mean time between failures)
Time
V2403-C2-W-T/V2403-C3-W-T /V2403-C7-W-T: 335,810 hrs
V2403-C2-T/V2403-C3-T/V2403-C7-T: 358,958 hrs
V2403-C2-T-W7E/V2403-C2-T-LX: 329,398 hrs
Standard
Telcordia (Bellcore) Standard TR/SR

•

Warranty
Warranty Period
3 years
Details
www.anhnghison.com
Note: These hardware specifications describe the embedded computer unit itself, but not its official accessories. In particular, the wide temperature specification does not apply to accessories such as power adapters and cables.
Software Specifications

•

Linux
OS
Linux Debian 8 64-bit
Web Server (Apache)
Allows you to create and manage web sites; supports PHP and XML
Terminal Server (SSH)
Provides secure encrypted communications between two unsecure hosts over an unsecure network
Kernel Version
GNU/Linux 3.16
System Shell
DASH (default), BASH
Text Editor
vim
File System
ext4
Internet Protocol Suite
TCP, UDP, IPv4, SNMPv2, ICMP, ARP, HTTP, ICMP, ARP, DHCP, NTP, NFS, SSH, SFTP, RSYNC, SSL
Internet Security Suite
OpenVPN, IPTables Firewall
Cellular Networking
QMI (Qualcomm MSM Interface): Glib-based library for talking to WWAN modems and devices that speak the Qualcomm MSM Interface (QMI) protocol.
Watchdog
A watchdog timer that triggers a system reset upon software freezes, for both specific applications and system-wide failures.
Application Development Software
• Moxa API Library
• GNU C library
• Perl
Embedded Self-Health Maintenance Software
Moxa Proactive Monitoring
Security Update of Existing Software Packages
All software packages installed on the V2403 can be automatically updated using Debian Linux's Advanced Packaging Tool (APT) server or Moxa's server.

•

Windows Embedded Standard 7
Core OS
• 64-bit support
• Remote Client
• Remote Procedure Call
Applications and Services Development
• Remote Desktop Protocol 7.1
• COM OLE Application Support
• COM + Application Support
• MSMQ
Internet Services
• Internet Explorer 8.0
• IIS 7.0
Diagnostics
• Common Diagnostic Tools
• Problem Reports and Solutions
Fonts
Western, Middle Eastern, South East Asian, and South Asian
Graphics and Multimedia
• MPEG Layer-3 Audio Codecs (MP3)
• MPEG4 Decoders
• DirectX and Windows Device Experience
Management
• Group Policy Management
• Windows Management Instrument (WMI)
• Windows Update
Networking
• Extensible Authentication Protocol (EAP)
• Internet Authentication Service
• Telnet Server
• Bluetooth
• Domain Services
• Network Access Protection
• Network and Sharing Center
• Quality of Service
• Remote Access Service (RAS)
• Telephony API Client
• Windows Firewall
• Wireless Networking
Security
• Credential Roaming Service
• Credentials and Certificate Management
• Windows Authorization Manager (AZMAN)
• Windows Security Center
• Active Directory Rights Management
• Security Base
• Encrypted File System (EFS)
Embedded Features
• Enhanced Write Filter (EWF)
• File-Based Write Filter (FBWF)
• Registry Filter
• WSDAPI for .NET
File Systems and Data Store
• Windows Data Access Components
• Windows Backup and Restore
Maintenance
Moxa Proactive Monitoring and Moxa Smart Recovery