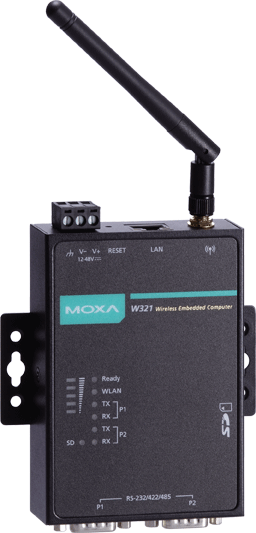 WLAN Computers W321 Moxa vietnam
Hãng sản xuất: Moxa
Liên hệ tư vấn

Ms. Hân

han@ansgroup.asia

0937.720.487

live:.cid.d8447f86f4b0447b
WLAN Computers W321 Moxa vietnam
Phase-out and Last Buy Notice
The W321 series will be discontinued starting July 7, 2017. The deadline for placing a final purchase order is Oct. 7, 2017. Due to the limited availability of these products, orders will be processed till we run out of stock.
For alternative solution, please see UC-8100 series or visit our Compact / Fanless Computers.
---
Features and Benefits
MOXA ART ARM9 32-bit 192 MHz processor running Linux 2.6
32 RAM, and 16 MB flash disk on board
802.11b/g/n WLAN with repeater function
WEP, WPA, and WPA2 encryption
10/100 Mbps Ethernet for network redundancy
SD socket for storage expansion
DIN-rail or wall-mount installation
Designed to withstand 5 g's of continuous vibration and 50-g shocks
Robust, fan-less design
Overview
The W321 is an embedded Linux computer that features 2 software selectable RS-232/422/485 ports, and support the IEEE 802.1b/g/n standards for WLAN connections. In addition, the computer has 1Ethernet port, and comes with an SD socket for storage expansion.The W321's Linux OS runs on the MOXA ART 32-bit ARM9 processor,and provides a powerful and reliable platform for harsh, industrial environments. You will find these computers ideal for a variety of machine-to-machine applications, including data acquisition, protocol conversion, and remote device control and monitoring.
White Paper
Securing Edge Devices and Data in Distributed Industrial Applications
In this white paper, Moxa examines the unique security challenges posed by widely distributed computing solutions that put edge devices into residential homes and public spaces. When considering computers for smart grid, surveillance, and ITS solutions, system integrators must also consider how to lock down the hardware and software to protect the devices from being subverted by hostile exploits. End users and system integrators alike will find that the Trusted Computing Platforms figures strongly in the solution, and when combined with secure kernel authentication and a variety of other software and hardware features produces a powerful, versatile computing solution with a wide range of applications.........more
------------------------------------------------------------------------------------------------------------------------------------------------------
White Paper
Building the Industrial Cloud:The Immediate Future of M2M Technology
In 2013, substantial steps towards building the Internet of Things at last began to materialize. In this white paper, Moxa examines the sorts of technology industrial networks will be relying on as they begin to build and deploy machine-to-machine networks. Software automations, hardware optimizations, and integrated platforms that fully exploit the convergence of these two main branches of system design are examined closely, to give IA and IT engineers a better idea of what challenges and obstacles they should be preparing for at the dawn of this new technological epoch........more
•

Hardware Specifications

•

Computer
CPU
MOXA ART ARM9 32-bit 192 MHz
OS (pre-installed)
Embedded Linux with MMU support
DRAM
32 MB
Flash
16 MB
Digital Input/Output
Input Channel: 4, sink type
Input Voltage: -0.5 to 3.3 VDC
Digital Input Levels:
• Logic level 0: + 0.8 V max.
• Logic level 1: + 2 V min.
Connector Type: 2 x 5 pin header
Output Channel: 4, source type
Output Current: 50 mA
Digital Output Levels:
• Logic level 0: + 0 V
• Logic level 1: +3.3 V
Connector Type: 2 x 5 pin header

•

Storage
Storage Expansion
SD slot

•

Ethernet Interface
LAN
1 auto-sensing 10/100 Mbps port (RJ45)

•

WLAN Interface
Standard Compliance
802.11b/g/n
Radio Frequency Type
DSSS, CCK, OFDM
Media Access Protocol
CSMA/CA (Carrier Sense Multiple Access with Collision Avoidance)
Broadcast Frequency
802.11 b/g/n ISM Band: 2.412~2.4835GHz
Modulation
• 802.11b: DSSS (DBPSK, DQPSK, CCK)
• 802.11g: OFDM (BPSK,QPSK,16-QAM,64-QAM)
• 802.11n: OFDM (BPSK,QPSK,16-QAM,64-QAM)
Transmission Rate
• 802.11b: 11Mbps
• 802.11g: 54Mbps
• 802.11n HT20: 6.5Mbps to 65Mbps,
• 802.11n HT40: 13.5Mbps to 135Mbps
Output Power (1TX)
• 802.11b: 17dBm ± 2dBm@11Mbps
• 802.11g: 14dBm ± 2dBm@54Mbps
• 802.11n HT20: 14dBm ± 2dBm@MCS7
• 802.11n HT40: 13dBm ± 2dBm@MCS7
Rx Sensitivity (typical)
• 802.11b: -88dBm ± 2dBm@11Mbps
• 802.11g: -71Bm ± 2dBm@54Mbps
• 802.11n HT20: -69dBm ± 2dBm@MCS7
• 802.11n HT40: -66dBm ± 2dBm@MCS7
Antenna Connector
Reverse SMA
Antenna
External 2 dbi dipole antenna
Wireless Security
WEP: 64-bit/128-bit, WPA, WPA2 data encryption
WLAN Modes
Ad-hoc (802.11b/g/n), Infrastructure

•

Serial Interface
Serial Standards
2 or 4 RS-232/422/485 ports, software-selectable (DB9 male)
Console Port
RS-232 interface (TxD, RxD, GND), with 4-pin pin header output

•

Serial Communication Parameters
Data Bits
5, 6, 7, 8
Stop Bits
1, 1.5, 2
Parity
None, Even, Odd, Space, Mark
Flow Control
RTS/CTS, XON/XOFF, ADDC® (automatic data direction control) for RS-485
Baudrate
50 bps to 921.6 kbps (non-standard baudrates supported; see user's manual for details)

•

Serial Signals
RS-232
TxD, RxD, DTR, DSR, RTS, CTS, DCD, GND
RS-422
TxD+, TxD-, RxD+, RxD-, GND
RS-485-4w
TxD+, TxD-, RxD+, RxD-, GND
RS-485-2w
Data+, Data-, GND

•

LEDs
System
Ready, SD
LAN
10M/Link, 100M/Link (on connector)
WLAN
Enable, Signal Strength
Serial
TxD, RxD

•

Switches and Buttons
Reset Button
Supports "Reset to Factory Default"

•

Physical Characteristics
Housing
Aluminum (1 mm)
Weight
185 g
Dimensions
(without ears or antenna)
77 x 111 x 26 mm (3.03 x 4.37 x 1.02 in)
Mounting
DIN rail (requires optional DK-35A DIN rail kit), wall

•

Environmental Limits
Operating Temperature
-10 to 60°C (14 to 140°F)
Storage Temperature
-20 to 80°C (-4 to 176°F)
Ambient Relative Humidity
5 to 95% (non-condensing)
Anti-vibration
5 g's @ IEC-68-2-6, sine wave, 5-500 Hz, 1 Oct./min, 1 hr/axis (without any USB devices attached)
Anti-shock
50 g's @ IEC-68-2-6, half-sine wave, 30 ms

•

Power Requirements
Input Voltage
12 to 48 VDC
Power Consumption
5.2 W
• 216 mA @ 24 VDC
• 433 mA @ 12 VDC
With full load on USB ports: 11 W
• 458 mA @ 24 VDC
• 916 mA @ 12 VDC

•

Standards and Certifications
Safety
UL 60950-1, EN 60950-1
EMC
EN 55022 Class A, EN 61000-3-2, EN 61000-3-3, EN 55024
Radio
EN 301 489-1/17, EN 301 893, EN 300 328, EN 50392, FCC Part 15, Subpart C/E
Green Product
RoHS, CRoHS, WEEE

•

Reliability
Alert Tools
Built-in buzzer and RTC (real-time clock) with battery backup
Automatic Reboot Trigger
Built-in WDT (watchdog timer) supporting 1-255 level time interval system reset, software programmable
MTBF (mean time between failures)
367,253 hrs

•

Warranty
Warranty Period
5 years
Details
www.anhnghison.com
Software Specifications

•

Linux
OS
Linux 2.6.38
File System
JFFS2 (for on-board flash)
Internet Protocol Suite
TCP, UDP, IPv4, SNMPv1, ICMP, ARP, HTTP, CHAP, PAP, SSH 1.0/2.0, SSL, DHCP, NTP, NFS, Telnet, FTP, TFTP, PPP, PPPoE
Internet Security
OpenVPN, iptables firewall
Terminal Server (SSH)
Provides secure encrypted communications between two un-trusted hosts over an insecure network.
Dial-up Networking
PPP Daemon for Linux allows Unix machines to connect to the internet through dialup lines using the PPP protocol, as a PPP server or client. Works with 'chat', 'dip', and 'diald', among (many) others. Supports IP, TCP, UDP and (for Linux) IPX (Novell).
Watchdog
Features a software function to trigger system reset in a user specified time interval. (MOXA API provided)
Application Development
• Moxa API Library (Watchdog timer, Moxa serial I/O control, Moxa DI/DO API)
• GNU C/C++ Cross-Compiler
• GNU C library
• GDB source-level debugging server
Software Protection
Encryption tool for user executable files (based on patented Moxa technology)